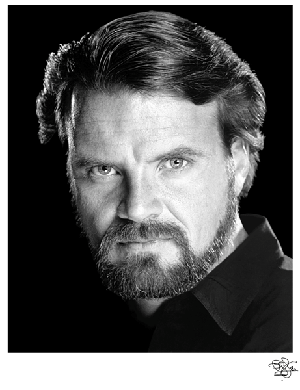 Jordan played a very big role in many people's lives. I was fortunate enough to get to know Jordan and for him to create a memorable character for my movie. He really made the character of Mr. Froschmann come alive. When Jordan read for the role, I asked him if he could do a voice similar to Sydney Greenstreet. He nailed it on the first try! His talent and his voice add a real spark, some real meat, to a now very three dimensional character thanks to Jordan. Man, I miss him.
Susan Blaine wrote some very touching thoughts:
Jordan was my favorite actor, best voice talent, funniest, brightest, handsomest guy I've ever known, and my dearest friend. I met him when I began working at a recording studio. That first day I was nervous but excited about my new job. I was struggling to print labels for reel-to-reel tapes using the studio's quirky brand new typewriter (yes, it was a number of years ago). Jordan breezed in for a voiceover gig. I took one look at him, my brain began fizzing, and all I could think was "wow, this guy is gorgeous" -- and I jammed the typewriter. My fumbling attempts to yank out the stuck label caught his bemused attention; he leaned over me to see what I was doing and I almost fainted. He helped me figure out the settings on the cranky machine, chatted, joked and completely put me at ease. A deep, loving friendship began that day.
As I learned to be a recording engineer, Jordan generously took time to help, coach and challenge me to be even better. Jordan was a writer in addition to his many other talents, and we recorded some of his books, songs and stories after hours at the studio. This was the best, most wonderful time of my life. He never did anything half-way, and he lived life passionately. His last recording session was just a few days before he died, he was very ill, but you'd never have known from his performance. Knowing him was a precious gift. I miss him, but he lives in my heart and memories.

---
Jim Vann offers these wonderful words:
Jordan Williams was an inspiration to me in a way he never realized. A lot of people brag about multi tasking. Usually it only means they are doing a lot of things, badly. Jordan was the opposite. He was so multi-talented that he made others around him want to do better. We all know that he was a somewhat tortured soul. I will always believe that this dichotomy was the reason. He was an exceptional talent in a mediocre world. What a shame that our greatest assets always seem to be our biggest liabilities, as well. I will always be in his debt for helping me to realize that we have a debt first, to ourselves, to use our talents and never let others dictate what we can and cannot accomplish.
Do you have a memory or story about Jordan that you'd like to share? If so, send me an email, and I'll post your responses here on this page.
Click here to read more about Jordan on the internet movie data base.
Click here to download the photo of Jordan. It's a large .zip file (full resolution 8" x 10"), so give it some time.